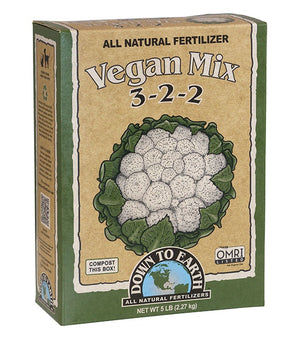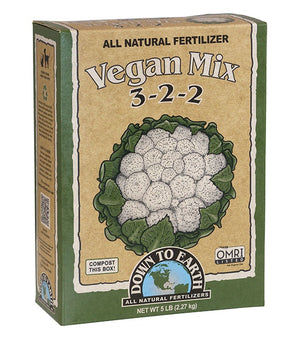 Delivery Information
The delivery range for online orders is 15 miles from our location.
0-5 miles      $15  ($10 if order is over $50)
5-10 miles    $25  ($15 if order is over $60)
10-15 miles  $35  ($20 if order is over $70)
See more details here.
On Sale
VEGAN MIX 3-2-2 5LB
Down To Earth's Vegan Mix 3-2-2 contains essential nutrients derived from plant materials and natural minerals, with no animal products or by-products. Designed to continually nourish your vegetables, herbs and flowers throughout the growing season, add DTE Vegan Mix 3-2-2 in combination with high-quality compost to build soil tilth and improve plant growth, quality and yields.
OMRI & CDFA Listed