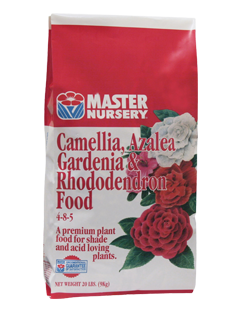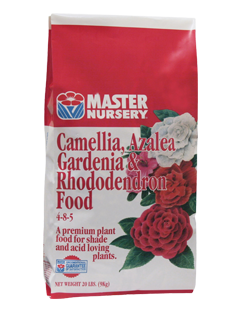 Delivery Information
The delivery range for online orders is 15 miles from our location.
0-5 miles      $15  ($10 if order is over $50)
5-10 miles    $25  ($15 if order is over $60)
10-15 miles  $35  ($20 if order is over $70)
See more details here.
On Sale
Camellia, Azalea, Gardenia & Rhododendron Food 4-8-5
A fertilizer for all acid-loving and shade-loving plants such as Azaleas, Camellias, Rhododendrons and ferns. This product is designed to promote greening, growth and flower bud formation. Iron is included to aid in reducing chlorosis. Calcium and Sulfur are added to improve water penetration and the soils texture. Contains: Ammonic and Urea Nitrogen. Contains: 11% Calcium, 1.5% Sulfur, 2.5% Iron, 0.16% Manganese, 0.16% Zinc.