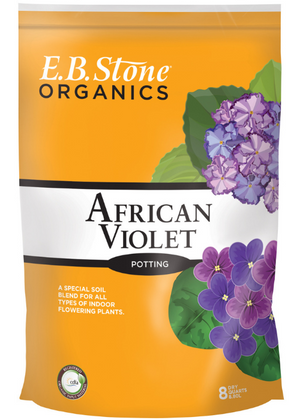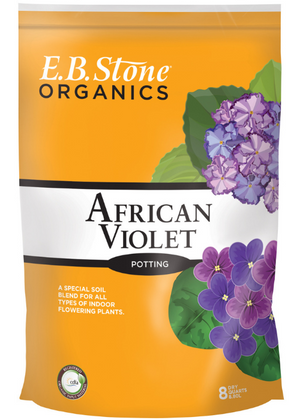 Delivery Information
The delivery range for online orders is 15 miles from our location.
0-5 miles      $15  ($10 if order is over $50)
5-10 miles    $25  ($15 if order is over $60)
10-15 miles  $35  ($20 if order is over $70)
See more details here.
On Sale
African Violet Mix 8 qt
100% Natural and Organic Potting Soil
Perfect for all indoor or outdoor African Violets
Contains extra Peat Moss to help retain moisture 
E.B. Stone Organics African Violet mix contains a unique blend of ingredients that are designed to grow African Violets. This versatile mix is also ideal for use on all types of indoor flowering plants.
ngredients: Aged Fir Bark, Peat Moss, Perlite, Aged Forest Products