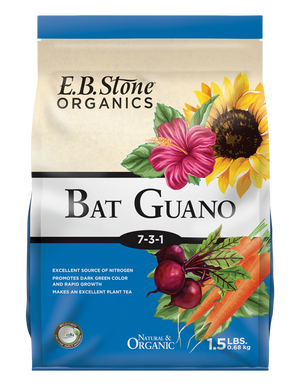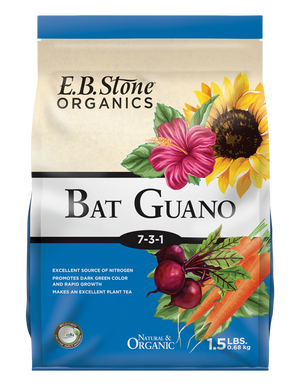 Delivery Information
The delivery range for online orders is 15 miles from our location.
0-5 miles      $15  ($10 if order is over $50)
5-10 miles    $25  ($15 if order is over $60)
10-15 miles  $35  ($20 if order is over $70)
See more details here.
On Sale
Bat Guano 1.5 Lbs.
A readily available source of nitrogen, phosphorus and potash. Bat Guano has a long history as a natural source of plant nutrients and was popular with farmers and gardeners alike until the advent of chemical fertilizers. It is suited for use with container plants and as a fast acting stimulant for early growth. E. B. Stone Bat Guano is also ideal for use whenever nitrogen is needed in the garden. Use it to encourage growth and to enhance the color of plant foliage. 
 NPK: 7-3-1
Derived from: Bat Guano.