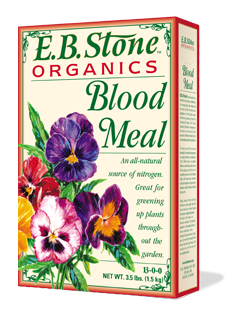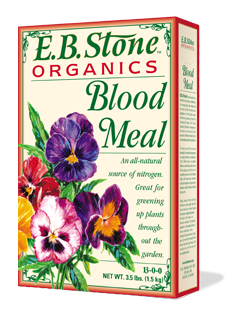 Delivery Information
The delivery range for online orders is 15 miles from our location.
0-5 miles      $15  ($10 if order is over $50)
5-10 miles    $25  ($15 if order is over $60)
10-15 miles  $35  ($20 if order is over $70)
See more details here.
On Sale
Blood Meal 13-0-0
A long lasting source of natural organic nitrogen which is readily available to plants. It will continue to release nitrogen gradually throughout the growing season. Blood Meal is ideal for use on most garden plants to encourage growth and improve leaf color. It is suitable for use on fast growing plants throughout the garden including vegetables, perennials, annuals, roses, shrubs and trees. E. B. Stone Blood Meal may also be used as a source of nitrogen in compost piles and is used by many gardeners to repel animal pests like squirrels and deer from the garden.