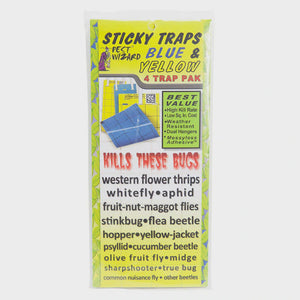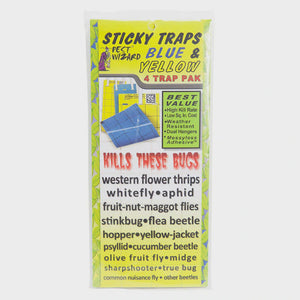 Delivery Information
The delivery range for online orders is 15 miles from our location.
0-5 miles      $15  ($10 if order is over $50)
5-10 miles    $25  ($15 if order is over $60)
10-15 miles  $35  ($20 if order is over $70)
See more details here.
On Sale
Blue & Yellow Sticky Traps 4 pack
A novel 2-tone trap.  Yellow on one side & Blue on the other, this trap attracts a broad spectrum of aphids, thrips, beetles and other insect pest species.  The blue side is scientifically tested to attract Western Flower Thrips that damage 650+ hosts plus other aphid and thrips species.  Two (2) heavy duty hangers per trap.
Aides in the tracking of the pests in your garden.