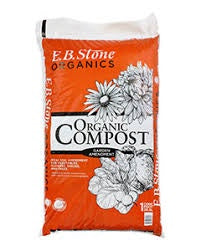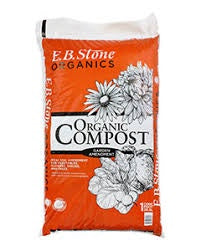 Delivery Information
The delivery range for online orders is 15 miles from our location.
0-5 miles      $15  ($10 if order is over $50)
5-10 miles    $25  ($15 if order is over $60)
10-15 miles  $35  ($20 if order is over $70)
See more details here.
On Sale
EB Organic Compost 1 cu ft
E.B. Stone Organics Organic Compost is an invaluable addition to any garden. Composts and the organic matter they contain are the foundation of rich garden soils and a key component of successful organic gardens of all kinds. E.B. Stone Organic Compost is ideal for use in vegetable gardens and flower beds, around trees and shrubs, and even on lawns. It can be added to the soil at time of planting or used as a surface mulch later on.