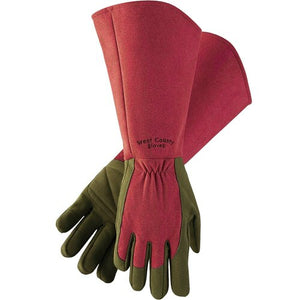 Delivery Information
The delivery range for online orders is 15 miles from our location.
0-5 miles      $15  ($10 if order is over $50)
5-10 miles    $25  ($15 if order is over $60)
10-15 miles  $35  ($20 if order is over $70)
See more details here.
On Sale
West County Gauntlets
The ultimate thorn and bramble protection. A Premium version of our Classic line, it offers full forearm protection with elegant style and perfect fit.  Applications:  Rose Pruning, Clearing Brush(Blackberries), Working with Lumber, Handling Abrasive Material.