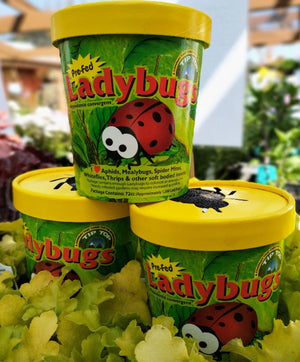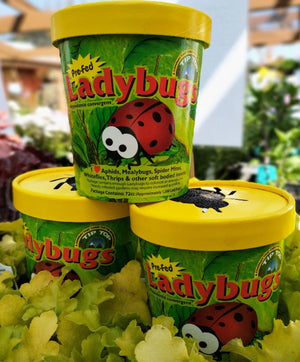 Delivery Information
The delivery range for online orders is 15 miles from our location.
0-5 miles      $15  ($10 if order is over $50)
5-10 miles    $25  ($15 if order is over $60)
10-15 miles  $35  ($20 if order is over $70)
See more details here.
On Sale
Ladybugs in a cup
New from Tip Top Bio-control
Benificial insects are a great way to help improve the health of your garden.
Ladybugs will help control most soft bodied pests. 
Store in the refrigerator until ready to use.
Its important to be tactical with realeasing them. Mornings are best, wet the area down first. 
Release only 1/4-1/5 the container at one time, make sure there are bugs for them to eat.
Your goal is for these adults to have lots of babies, the larva eat as much as the adults and dont have wings.
They look like little baby aligators.
Its important to make sure the bugs you are targeting are not being protected by ants. 
Ants wll not only protect bad bugs from preditors but they will farm them on plants. 
Control the ants for better results.