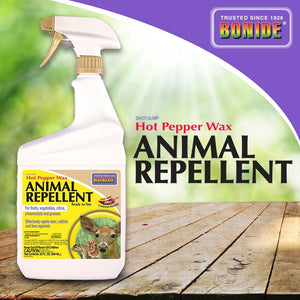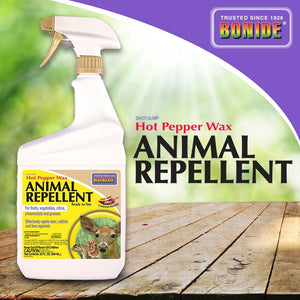 Delivery Information
The delivery range for online orders is 15 miles from our location.
0-5 miles      $15  ($10 if order is over $50)
5-10 miles    $25  ($15 if order is over $60)
10-15 miles  $35  ($20 if order is over $70)
See more details here.
On Sale
Shot-Gun Hot Pepper Wax Animal Repellent RTU 32oz
BONIDE Hot Pepper Wax uses hot cayenne pepper to repel listed animals from your yard. Can be used on listed fruits, vegetables, & ornamentals. Lasts up to 4 weeks.
Animal repellent for fruits, vegetables and ornamentals
Made from hot cayenne pepper
One application can last up to 4 weeks
Repels deer, rabbits and tree squirrels
For use on wood structures to prevent chewing
Ready To Use Quart (32oz) Spray Bottle