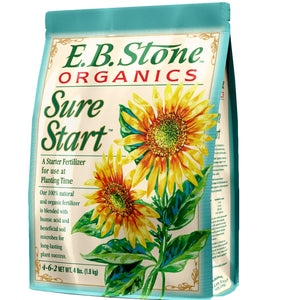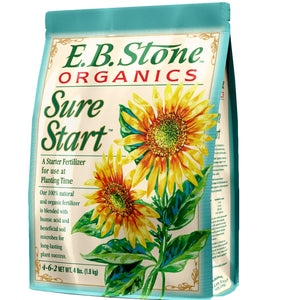 Delivery Information
The delivery range for online orders is 15 miles from our location.
0-5 miles      $15  ($10 if order is over $50)
5-10 miles    $25  ($15 if order is over $60)
10-15 miles  $35  ($20 if order is over $70)
See more details here.
On Sale
Sure Start 4-6-2
A blend of natural organic ingredients formulated to help newly transplanted plants develop strong roots and sturdy growth. Rich in natural sources of phosphorus to help your plants develop a strong foundation for future growth. Our gentle and non-burning formula is safe to use with even the most tender transplants. Contains: Blood Meal, Feather Meal, Bone Meal, Dried Chicken Manure, Bat Guano, Alfalfa Meal, Kelp Meal, Potassium Sulfate, Humic Acids and Soil Microbes including Mycorrhizal Fungi.