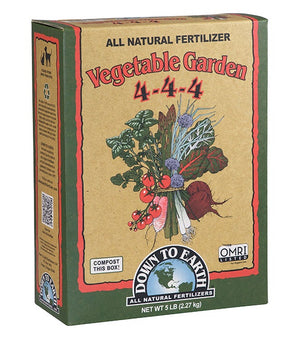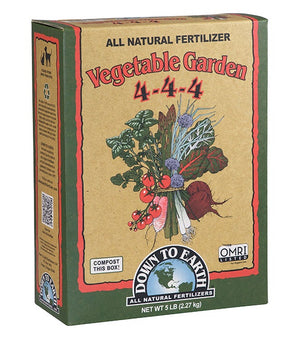 Delivery Information
The delivery range for online orders is 15 miles from our location.
0-5 miles      $15  ($10 if order is over $50)
5-10 miles    $25  ($15 if order is over $60)
10-15 miles  $35  ($20 if order is over $70)
See more details here.
On Sale
VEGETABLE GARDEN 4-4-4
Down To Earth's Vegetable Garden 4-4-4 is full of powerful plant nutrition to help your garden grow! Its all-purpose formulation provides a perfect start for your sprightly spring veggies, gives your summer tomatoes super-powers and is fantastic for growing your favorite fragrant herbs. Vegetable Garden's broad nutrient profile is ideal for use throughout the growing season. Grow and Eat Your Veggies!
OMRI & CDFA Listed